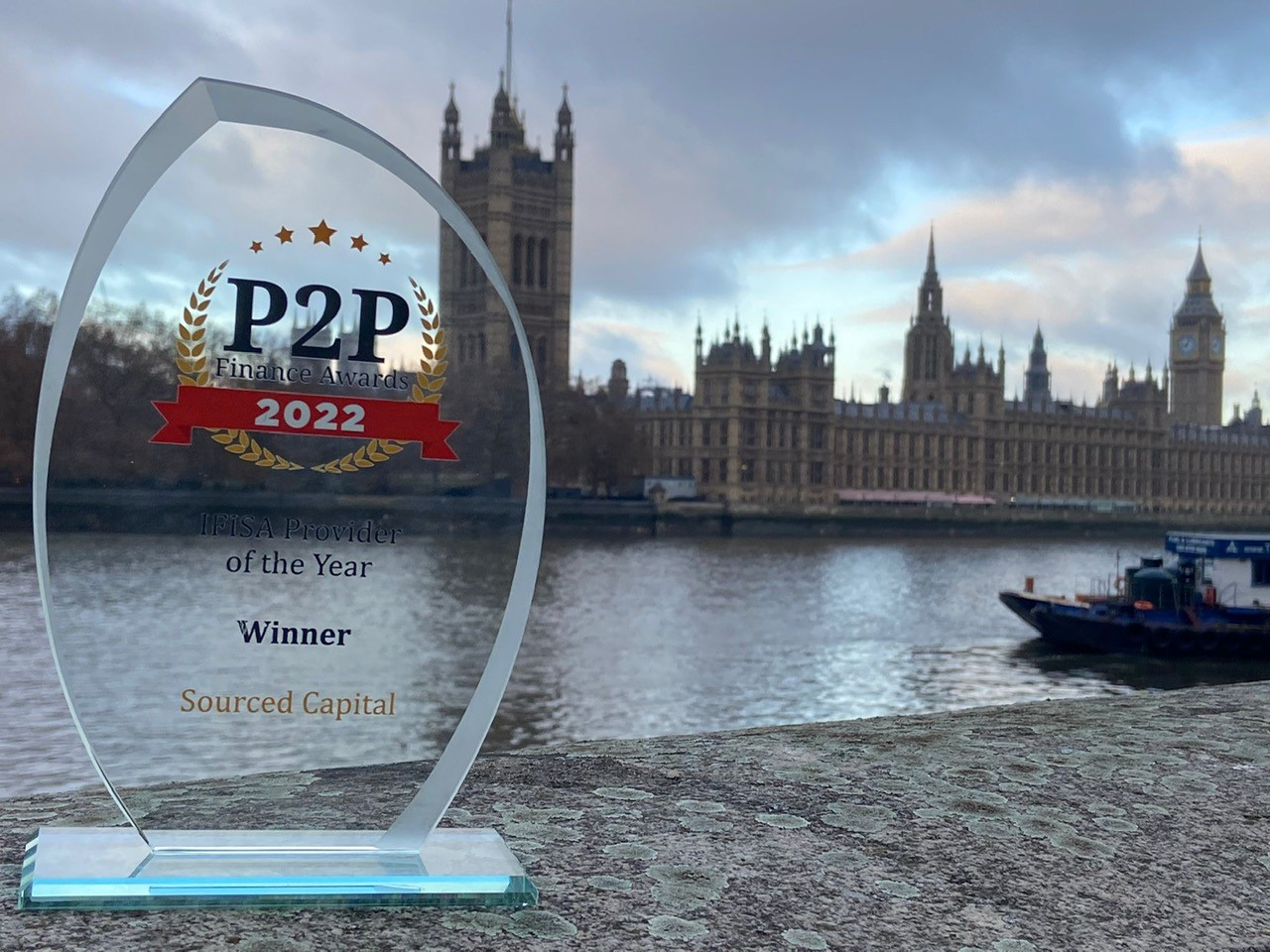 Sourced Capital Voted Best IFISA Provider 2022
Earn interest tax-free when investing in property backed loan investments using an IFISA with Sourced Capital
We are thrilled to announce that we have been named as the winners of the Best IFISA Provider for 2022 at the Peer2Peer Finance Awards. This award highlights how we can help funders to make the most of their investments by offering an easy method of investment that also provides targeted, tax-free returns of up to 12% per annum.*
Sourced Capital help smart investors to invest smarter by providing opportunities to invest in peer-to-peer loans that are secured by UK property assets.
"Year on year, we have gone from strength to strength, constantly focusing on our clients and ensuring that they receive the best possible experience with Sourced Capital" said our CEO Steve Moss. "We are delighted that all our hard-work has been recognised, that we have been identified as sector specialists and that the opportunities we provide to investors are considered to be industry-leading."
The honour was awarded during a fantastic ceremony hosted by Peer2Peer Finance at the Hurlingham Club in London. The event was presented by Sasha Qadri, the experienced TV news presenter who has reported for Bloomberg, CNN, CNBC and Channel 4 News.
Renowned for being the UK's first peer-to-peer finance magazine dedicated to investors and the industry, Peer2Peer finance are also known for announcing their "Power 50". This is a list of the top 50 most influential people and businesses in the peer-to-peer lending space – a list that includes Sourced Capital.
"We were incredibly proud to have been nominated for Best IFISA Provider at the Peer2Peer Finance Awards, and we are even prouder to have been named the winners," said John Wilson, Sourced Capital's Relationship Manager. "Our team have worked tirelessly to ensure a smooth investment experience for all of our lenders and this award confirms our dedication to providing the best services and products."
With all the excitement of winning the Best IFISA Provider award, we aren't taking our victory for granted. "We will continue to look for ways in which we can even further improve our services for investors," said Steve Moss. "We won't be resting on our laurels in any case! We have a pipeline of upcoming property development projects for 2023, and we are excited to be able to offer these opportunities up to investors."
The Benefits of Investing With an IFISA
Investing in property backed loan investments using an IFISA has a whole host of benefits.
IFISAs are relatively easy to open and you can transfer any funds from another ISA or bank account into your IFISA. You can also access them via online peer-to-peer platforms – subject to you meeting that platform's criteria.
Your IFISA can sit alongside other ISAs that you have held from prior tax years or other investments. Furthermore, you can still invest up to £20,000 per tax year, earning interest tax-free on the amount you have invested.
Another benefit of investing with a IFISA is that reputable providers, such as Sourced Capital, offer targeted returns of up to 12% per annum. This could compare favourably with returns available elsewhere.**
Moreover, some providers, again such as Sourced Capital, allow you to select which projects you would like to invest into. This enables you to diversify your investments across a number of different loans, thereby mitigating any potential risk.
To further protect against any potential risk, all investments with Sourced Capital include a first legal charge in the event that a problem arises with the project.
Sourced Capital have a 100% repayment rate for all investment and expected interest.**
If you are looking to invest into a property backed loan investment, you can check out our latest projects here.
Our most recent project is Victoria Seaview in Scarborough. The project will convert the Victoria Seaview hotel into 13 apartments. All funds raised through investment will go towards the purchase of the property and the proposed works. To invest today, login to your account, or to find out more about Sourced Capital, how you can benefit from investing with an IFISA and our investment opportunities, visit our website and download our lender's guide.
* Don't invest unless you're prepared to lose money. This is a high-risk investment. You may not be able to access your money easily and are unlikely to be protected if something goes wrong. Take 2 minutes to learn more.
**Figures accurate as of 08/12/22